Time Travelers
Time Travelers are members of the public who volunteer their time and talents to assist professional archaeologists and historians working in State Parks. Work includes research projects and the study and protection of our cultural heritage.
Sound exciting? It is! Ready to join? Terrific!
The first step is to register as a State Parks volunteer by visiting http://destateparks.com/volunteers/to-apply.asp
Follow the link for "Individual or Group Volunteer," indicate that you are an individual volunteer, fill in your personal details, and in the "Why are you interested in volunteering?" box indicate that you are interested in becoming a "New Time Traveler".
You will be contacted to confirm your registration and additional information about upcoming events will be provided.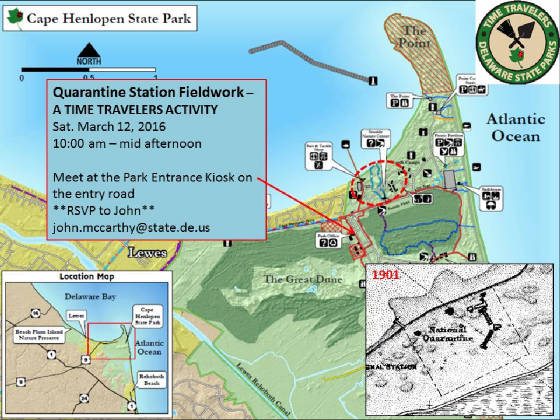 John P. McCarthy, RPA
Cultural Preservation Specialist
(Archaeologist/Architectural Historian)
Cultural Resources Unit
DNREC – State Parks and Recreation
152 S. State Street
Dover, DE 19901
Direct Dial (302) 739-9188
Mobile (302) 387-9785